filmmakers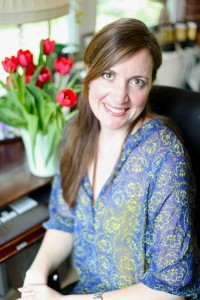 Haynal Papp
Founding Owner, dolce studio films

An artist, history buff and traveler, Haynal has headed up Dolce for well over a decade, creating over a thousand documentary films in that time. She is involved in every aspect of the business, from talking with clients before the wedding, to shooting the wedding and editing the video. A perfectionist, she has put together a strong collaboration of artists, represented here.

favorite things: cafe au lait, afternoon naps, lapping lakes, chocolate cake, watercolor paintings, ghost stories, holding hands with my daughters, dancing to loud music, campfires, a good book, creating.
Daniella
Shooter / Editor
A native of Brazil, Daniella graduated Brazil's prestigious Catholic University with a degree in Marketing. She and her husband then founded and operated their own wedding film company in the south of Brazil. During the 5 years it operated, they became well known and respected for their contributions in revolutionizing the wedding video industry in Brazil. Their goal was to transform boring wedding videos into cinematic experiences. This work took them all over the country and included major wedding productions where Daniella directed up to 12 people capturing a single event in one day. She has significant post-production experience as well and is sensitive to the creative and emotional importance of creating films that tell compelling stories of love and marriage.
favorite things: cooking, discovering new restaurants, good wine, hosting parties, photography, travel, electronica music, dogs, summer, family.
HaMiD
Shooter / Editor
A graduate of Political Theory from the University of Chicago, Hamid started his professional career as a freelance filmmaker and editor in The Windy City.  His projects include documentaries, fashion shows and weddings.  He then spent time in Portland, OR, filming and producing a documentary about the musicians working the Portland music scene.  Hamid's full time work in Washington DC – where he currently works for a US Sentator – is balanced by filming special events with Dolce.  His primary goal as a filmmaker?  To film subtle, authentic moments.
favorite things: cooking, discovering new restaurants, good wine, hosting parties, photography, travel, electronica music, dogs, summer, family.
Lisa
Editor
Lisa is a graduate of the prestigious Bryn Mawr College, where she was also the photography editor of their literary magazine. After a lengthy career in healthcare – as an expert in computers and information technology – she fostered her passion for photography, film and production by taking freelance work.  Her specialty has since become post-production and she has worked on a wide span of special events, corporate films, promotional films, independent films, documentaries, interviews and weddings.
favorite things: my canine kids, swim club, cooking, movies, photography, bubbly, pasta, pizza, lying on the beach, floating in the ocean, firelight, candlelight, sunlight, binge watching with popcorn, happy hour, dining out
Brandon
Editor
A graduate of the Art Institute of Washington with a BA in film, Brandon has worked in short narrative films as both a writer and director. He is a freelancer specializing in post-production and works with diverse clients and production houses.
favorite things: my 2 year old, Zoey, time in the garden, growing my own food, fantasy football, psychological thrillers and delicious food
Natasha graduated from St. Petersburg State University in Russia prior to moving to the USA in 2000, where she completed photography classes at Thomas Jefferson Community Center in Arlington, VA and began her career in digital video documentary. She has worked as a video journalist with two video companies prior to joining the dolce studio films team and has a wealth of on-site experience capturing weddings, mitzvahs, and other special events. She has significant production experience as well, both in editing video and in troubleshooting the technical aspects of the post-production process. Also a professional photographer, Natasha has published her work in the magazine "Clavier" as well as having it published on many websites, including the Loudoun Times-Mirror, Eric Himy's webpage and the Sahara Dance website. She has shown her work at the Ellipse Gallery and brings her artistic eye to the events captured by dolce studio films. photo provided by Hadar Goren Photography
favorite things: snow, black tea, the color orange, the smell of cut grass, the sound of waves crashing, reading with kids, singing in a choir, black and white photography, Henri Rousseau, St. Matthew Passion
Shooter / Editor
A native of Brazil and Journalism graduate, Flavio and his wife Daniella founded and operated their own wedding filming company in the south of Brazil.  During the five years it operated, they became well known and respected for their contributions in revolutionizing the wedding video industry in Brazil.   Using cranes, steadycams, stabilizers and drones, Flavio's images set him apart as a filmmaker specializing in high-end wedding films for Brazil's most exclusive weddings. His innovative style is unconventional, colorful, happy and vibrant. He takes his inspiration from the people he meets each day, the local restaurants he frequents, the towns he visits and the music he listens to. His work is a reflection of his soul and lifestyle.
favorite things: photography, cinema, technology, traveling, discovering new places, dogs
Shooter
Kris Unger has been working in video since 2001, with a primary focus on nature documentaries, which he has shot for the Sierra Club and the Potomac Conservancy. He's currently working on a documentary about the Potomac River. He's involved with several local film groups, has participated in DC's popular 48 hour Film Festival and was DP for the short film, Somnium, released in 2002. He is also a shooter for Verdant Power's Energy Project and filmed the documentary style footage used in the promotional video screened by the New York's Mayors office to launch an alternative energy initiative using cutting edge technology.
favorite things: kayaking, trail running, Zen hiking, cooking, roaring fires, gardening, vernal pools, exploring, books and cats
Shooter / Editor
Alyssa graduated from Vassar College in 2008 with a BFA in Film and Italian. She started filmmaking in the Vassar Film Department where she developed a passion for storytelling. Her short film Sleepover was chosen as a finalist in a Calvin Klein International Film Competition in 2007. Alyssa has worked on documentary features including the PBS Helen Whitney special Forgiveness: A Time to Love and a Time to Hate and Heaven + Earth + Joe Davis which premiered at IFF Boston. In television, Alyssa worked on the comedy clip show The Smoking Gun Presents on TruTV and DC 360, a public affairs show about local DC issues. She is currently working on a short film about relationships and plans to submit it to festivals next year.
favorite things: frosted cupcakes, ocean waves, dancing with friends, dressing up, fancy cocktails, my adorable dogs, Italy, pasta, turquoise, good TV, bubbling fountains, foreign movies and great stories.
Editor
Ariel is a graduate from San Francisco State University with a degree in Radio and Television. It was upon graduation she realized documentary filmmaking would become her passion. After moving to D.C. and graduated from Howard University with a Masters in Mass Communications and Media Studies, she began to actively pursue this field. With a self produced documentary and a couple of other short projects under her belt she began to explore other subject matters within documentary production. With an interest in news, entertainment, and a plethora of other matters there is no limit to what Ariel wants to capture.Â
favorite things: Chipotle, music (singing, playing, concerts, etc.), dancing, Law & Order (SVU only), Cold Stones Creamery, beaches, road trips, online shopping, Groupon and Living Social deals, Scandal, New Girl and The Mindy Project, sleeping, visiting historic towns
Shooter / Editor
Deanna is an award-winning videographer, producer, and editor based in Washington, D.C. She specializes in documentaries and believes the best stories are told with passion and care. Deanna currently works as the video and multimedia producer for Education Week and freelances with Dolce on the weekends.  Her work has been featured on the PBS Newshour and in HuffPost Education.  
favorite things: Cooking and eating delicious food, hiking, lifting, traveling, wine, whiskey, books and cats